MR. SURAJ PRATAP MALIK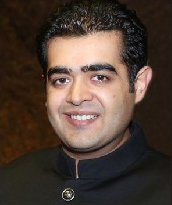 A young and driven working professional having completed his education with a MBA degree in Management, Banking & Finance from the University Of Cardiff.
Currently, heading the overall management of Infomerics pan India.
Overlooking operations including Ratings, Business Development, Compliance and Information Technology.
Responsible for corporate drive & overall operations giving Infomerics the direction and guidance.
Having expertise in Finance, Management, Research & Analysis. Responsible for strategy and functioning of the company.
Aims on building client relationships through strong and thorough work ethics.
A confident and dedicated leader focusing on team building, next stage successes and assisting the board in the development as well as implementation of short and long term goals.
Has business intelligence and expertise to maintain transparency whilst emphasising on service and standards.
Maintains updated knowledge of ongoing trends, developments and practices in the CRA world.
An intellectual and astute individual providing an advisory service to senior managers.